http://www.footballgaelique.fr/
Final
"Elite" Grup results
Paris (3-8) - (1-2) Rennes
Toulouse (1-7) - (4-8) Liffré
Liffré (0-6) - (1-9) Bordeaux
Toulouse (2-1) - (1-6) Paris
Toulouse (1-6) - (1-5) Rennes
Paris (2-10) - (1-4) Bordeaux
Toulouse (0-6) - (2-6) Bordeaux
Liffré (5-8) - (0-0) Rennes
Paris (4-6) - (2-5) Liffré
Rennes (2-5) - (3-3) Bordeaux

FINAL
Paris (2-12) - (3-3) Bordeaux

Final Ranking 2014
The game is over, the curtain felt on this 2014 championship and the winner is...PARIS, in the city of light, the
Paris Gaels
will now overshadows Paris Saint Germain.
All the players dedicated this trophy to the great former player
Brendan Hickey
(at the bottom right corner on the photo) who sadly died few weeks ago.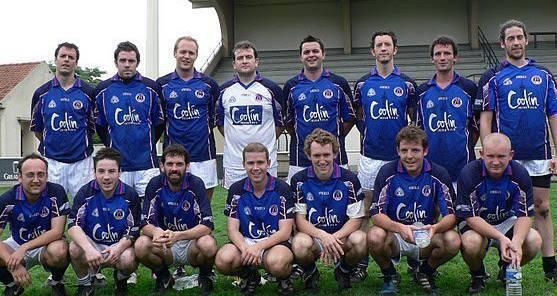 They beat a surprising
Bordeaux
, wining their fifth title and reaching the summit of french championship for the first time in five years.
Under

the

blazing sun

of Clermont (

40

degrees in the sun

), the recent Brittany champions EGHB

Liffré

could not

resist

to

the Parisians

despite

a huge effort

in the second period

of the decisive grup game

and they
did not
retain their title.
Simon Deignan (Bordeaux) was elected best player of the season.
Here is an infografic showing the performance detail for the five best teams in the league.i
The 2014 women trophy goes
again to Rennes GAA (see photos below) and the "shield" is won by the Clermont hosts.