Nom gaélique
: An Longfort
Devise:
Gaisce Agus Glaine (Armes et pureté)
Surnoms
:
The Slashers *
The O'Farrell County (
en référence au clan Farrell
)
Population:
40.810 (31ème)
Site officiel
:
longfordgaa.ie
Stade:
Pearse Park, Longford (10.000 places)
*
"

Slasher

" dans le sens «homme de valeur» vient de Myles "The Slasher" (le découpeur) O'Reilly, tué

en défendant

le pont de Finnea en 1644. "Slasher" est avec le temps, devenu péjoratif pour les habitants de Longford, avec un sens semblable à "Culchie" (péquenot), même si les habitants du comté se le sont récemment réapproprié.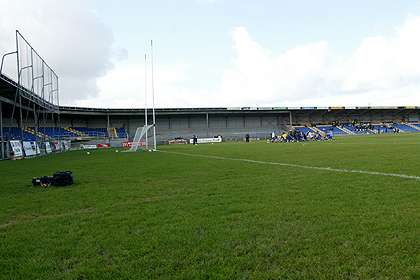 Le Pearse Park de Longford
Le déclin national de la GAA a fait d'une organisation dynamique de plus de vingt cinq clubs et un millier d'adhérents, un entité réduite à sa portion congrue.
Au moment de la résurgence de la GAA au début du XXème siècle, le soccer était entre temps devenu dominant et principalement dans les zones urbaines du comté.
Lorsque la GAA a fini par reprendre une partie du terrain perdu, le football fut largement plébicité par rapport au hurling, l'un des meilleurs exemples étant l'université de St.mel vainqueur du premier championnat du Leinster universitaire en 1928.
Le comté de Longford connut une vague d'émigration importante durant la période dite de "l'emergency" (période couvrant la seconde guerre mondiale) et bien que la GAA fut affectée au niveau local, la sélection inter-comté n'en fut pas immédiatement impactée puisque les années 1960 furent une période faste pour Longford, vainqueur de sa première National Football League en 1966, confirmant dans la foulée par un premier titre de champion du Leinster en 1968.
Le comté a connu depuis plus de succès avec ses équipes de jeunes, et notamment les minors vainqueurs de deux titres de champion du Leinster depuis le début du nouveau millénaire (en 2002 et 2010).