Nom gaélique:
Ciarraí
Surnoms
:
The Kingdom (
Le royaume*
)
The Aristocrats (
Les aristocrates*
)
Population
: 147,554 hab (15ème)
Site officiel
:
kerrygaa.ie
Stade
: Fitzgerald Stadium, Killarney (43.180 places)
*
John

Philpot

Curran

,

député

et magistrat

déclara

à la Chambre

irlandaise

des communes le 23

Janvier

1787

.

"

L'état

de votre

magistrature

est

faible

et méprisable

, elle

est la cause de

beaucoup de mal

, en particulier

dans le "Royaume de

Kerry

"

Je dis

"Royaume"

,

car il ne semble

absolument

pas faire partie

du même pays

" .

Kerry tient son surnom "d'aristocrates" plus directement du football, de son style et de sa domination en terme de palmarès.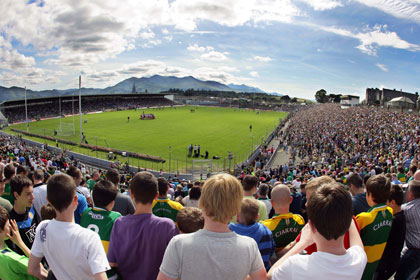 Le Fitzgerald Stadium
Kerry est le comté dominant du football gaélique et le plus titré de l'histoire de ce sport avec 37 titres, le dernier datant de 2014.
L'origine de la prédominance du football dans le comté peut être attribuée à la présence répendue du
caid
, forme ancienne et traditionnelle de football gaélique très pratiquée dans le Kerry.
La faible progression de la GAA dans les zones rurales du comté- due comme ailleurs à l'émigration- fut contrée par le rajeunissement de l'association dans les zones urbaines de Tralee ou Killarney au début du XXème siècle. Le premier des trente-sept All-Ireland fut remporté en 1903. Fait unique, Kerry a réussi dans son histoire deux "quatre à la suite", le premier entre 1929 et 1932 et le second entre 1978 et 1981.
La tradition footballistique du comté est constamment renforcée, les succès appellant les succès.
Un chiffre parlant plus que de longs discours, Kerry fut présent dans onze finales depuis le début du nouveau millénaire.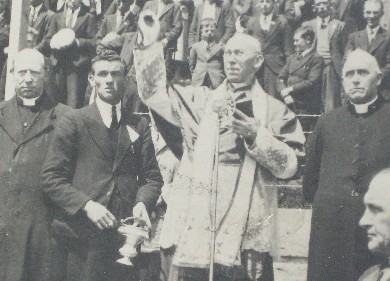 La bénédiction du Fitzgerald Stadium par le Dr.O'Brien, évèque de Kerry le 31 mai 1936
Effectif 2016 de Kerry *
1. Brian Kelly (26 ans)
2. Shane Enright (28 ans)
3. Mark Griffin
4. Killian Young (29 ans)
5. Brian Ó Beaglaoich (21 ans)
6. Peter Crowley (26 ans)
7. Tagh Morley (22 ans)
8. Kieran Donaghy (33 ans)
9. Bryan Sheehan (31 ans)
10. Paul Murphy (25 ans)
11. Colm Cooper (33 ans)
12. Donnchadh Walsh (32 ans)
13. Darran O'Sullivan (30 ans)
14. Paul Geaney
15. Stephen O'Brien (25 ans)
rempl:
- Brendan Kealy
- Marc O'Sé (36 ans)
- David Moran (28 ans)
- Jonathan Lyne (26 ans)
- Barry John Keane (26 ans)
- Michael Geaney (27 ans)
- Anthony Maher (30 ans)
- Aidan O'Mahony (36 ans)
- Fionn Fitzgerald (26 ans)
- Pàdraig O'Connor
- Kieran O'Leary (29 ans)
- Johnny Buckley (27 ans)
- Tommy Walsh (28 ans)
- Denis Daly
Manager:
Eamonn Fitzmaurice
Assistants:
Mikey Sheehy et Diarmuid Murphy
Président:
Tom Keane