Nom gaélique
: Liatroim
Surnoms:
The Canaries (
les canaris
)
The Ridge County (
Le comté des crêtes
)
The Green and Gold (
les verts et or
)
Population
: 31,798 hab (32ème)
Site officiel
:
leitrimgaa.ie
Stade
:
Páirc Seán Mac Diarmada, Carrick-on-Shannon (9.331 places)
Le P

á

irc Se

á

n Mac Diarmada
Bien que Leitrim soit le comté le moins peuplé du pays, il peut se vanter d'avoir le plus grand nombre de clubs GAA et de joueurs par habitants (Vingt-quatre pour un peu moins de 32.000 habitants en 2010).
Le déclin de la GAA dans les années 1890 fut un phénomène d'ampleur national mais ses conséquences se firent ressentir de façon bien plus dramatique dans les petits comtés tel que Leitrim.
La refondation du board en 1904 eu des effets bénéfiques pour l'association, avec pour principal résultat une scène de clubs renouvellée et dynamique, mais l'émigration eut plus qu'ailleurs des effets néfastes et empecha durablement Leitrim de rivaliser sur la scène inter-comté.
Une crise démographique débutée au moment de la grande famine, au milieu du XIXème siècle et qui se poursuivra sans discontinuer jusqu'au début des années 1990 ou la population totale ne dépassait pas 25.000 habitants.
En dépit de ces handicaps multiples, Leitrim a tout de même connu quelques succès d'autant plus appréciables. Parmi ceux là, le All-Ireland "B" remporté en 1990, et chez les féminines un titre national en junior en 1988 et un All-Ireland intermediate en 2007.
La vitalité de la GAA ans le comté se reflète également dans sa contribution aux compétitions de Scór (à objet culturels).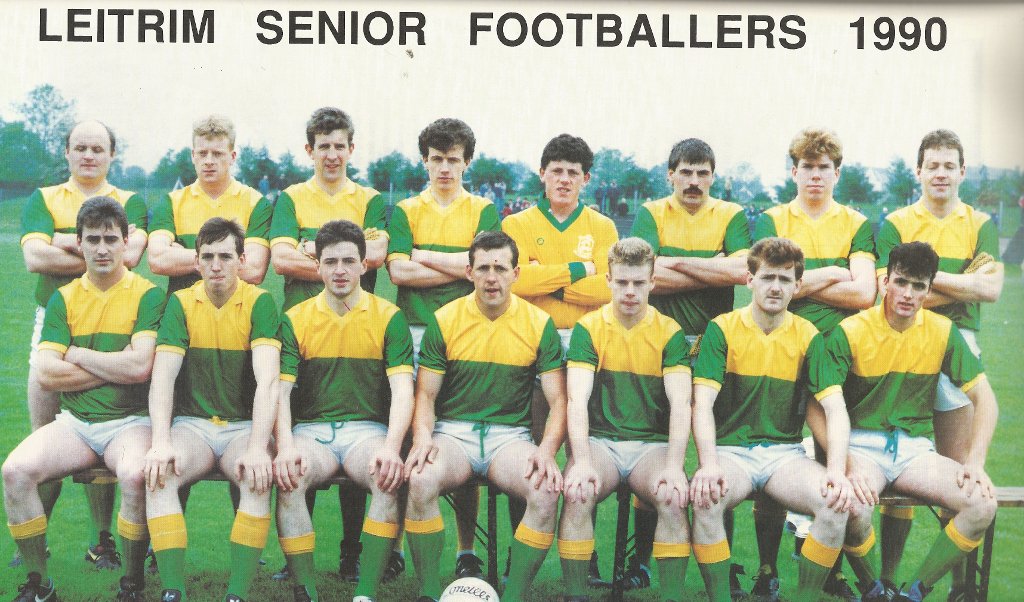 Les seniors du comté vainqueurs du All Ireland B en 1990
L'effectif 2018:
1 Diarmuid McKiernan (Allen Gaels)
2 Paddy Maguire (St. Brigid's Dublin)
3 Micheal McWeeney (St. Mary's Kiltoghert)
4 Oisín Madden (Mohill)
5 James Rooney (Glencar/Manorhamilton)
6 Donal Wrynn (Fenagh St. Caillin's)
7 Shane Quinn (Mohill)
8 Mark Plunkett (Aughawillan)
9 Domhnaill Flynn (Mohill)
10 Jack Heslin (Gortletteragh)
11 Emlyn Mulligan (Melvin Gaels)
12 Ryan O'Rourke (Fenagh St. Caillin's)
13 Darragh Rooney (Melvin Gaels)
14 Keith Beirne (Mohill)
15 Brendan Gallagher (Lucan Sarsfields Dublin)