Nom gaélique
: Sligeach
Surnoms
:
The Yeats County *1
The Markievicz County *2
The Magpies (
les pies - en référence au couleurs du comté, le noir et le blanc
)
Population:
65,393 hab (26ème)
Site officiel
:
sligogaa.ie
Stade
: Markievicz Park, Sligo (18,558 places)
1* L'écrivain
William Butler Yeats
a vécu une grande partie de son enfance dans le comté de Sligo qui demeura sa "patrie spirituelle".
2* La comtesse
Constance Markievicz
, aussi surnommée "comtesse rouge" en raison de ses convictions socialistes, fut l'une des héroïnes de la révolution irlandaise. Bien que née à Londres, elle passa la plus grande part de sa jeunesse dans le comté de Sligo.
Le Markiewicz Park de Sligo
Sligo fut dés les origines de la GAA l'un des comités les mieux organisés du Connacht et le premier club crée dans ce comté le fut à Collooney en janvier 1885.
Si le hurling a été immédiatement introduit, le football est resté assez nettement le sport dominant et privilégié par le board local. Sligo remporte un premier titre de champion du Connacht en 1928 mais malgré de louables efforts, le comté ne parviendra pas à en tirer parti. L'une des raisons à cette difficulté tient à la popularité du soccer dans le comté et spécialement dans sa capitale et principal centre urbain, avec la présence du club des
Sligo Rovers
(club formateur de
Séamus Coleman
).
Le XXIème siècle semble s'ouvrir sous des hospices favorables.
L'une des plus notabes réussites reste incontestablement le développement du football féminin à partir de 1993. Le premier titre arrivant en 2006 avec un All Ireland Junior.
L'année suivante , les hommes remportent leur troisième et à ce jour dernier titre provincial contre Galway puis en 2008, ce sont les hurlers qui décorchent la Nicky Rackard Cup (compétition nationale de 3ème niveau).
Enfin, la création en 2011 d'un centre d'excellence pour les équipes de tout niveaux du comté, se veut un symbole de la santé de la GAA à Sligo et un témoignage de ses ambitions futures.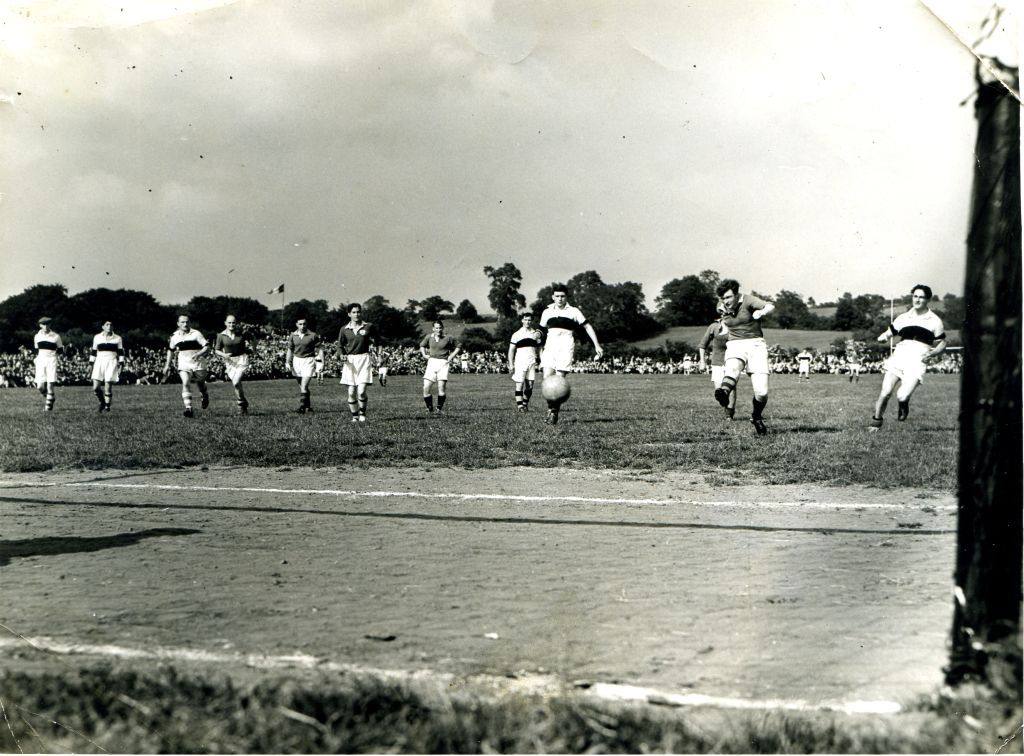 Sligo concède un but contre Mayo lors d'un match inter-comté en 1950
L'effectif 2018:
Nom club
| | | |
| --- | --- | --- |
| 1 | Aidan Devaney | Calry/St. Joseph's |
| 2 | Ross Donovan | Eastern Harps |
| 3 | Luke Nicholson | St. Mary's |
| 4 | Charles Harrison | St. John's |
| 5 | Gerard O'Kelly Lynch | St. Mary's |
| 6 | Adrian McIntyre | Tourlestrane |
| 7 | Neil Ewing | Drumcliffe/Rosses Point |
| 8 | Kevin McDonnell | Castleconnor |
| 9 | Niall Murphy | Coolera/Strandhill |
| 10 | Catahl Henry | Tourlestrane |
| 11 | Cian Breheny | St. Mary's |
| 12 | Pat Hughes | Geevagh |
| 13 | Liam Gaughan | Tourlestrane |
| 14 | Adrian Marren | Curry |
| 15 | Kyle Cawley | St. Nnnnager |
Manager: Cathal Corey (depuis oct 2017)
Cathal Corey